Mixed Reality Advertising
Concept Development | Augmented Reality Marketing | UX Design
The Future of Advertising.
Category:
Augmented Reality, Conceptual Design, UX Design
Client:
Entertainment Franchises
Problem:


With Snap, Inc rolling out more and more features daily, an advertising campaign 

format that jumps into the future and pushes the possibilities of augmented reality is inevitable.
How The Campaign Format Works
Entertainment franchises would host a promotional campaign through Snapchat to generate awareness prior to upcoming events. After some initial advertising on various social media outlets (Instagram, Facebook, Snapchat), fans would find the snapchat filters in targeted cities. 
The fans would then make creative video or images that they send in to the specific snapchat name associated with the contest for a chance at winning a prize. 
To show the variety of entertainment franchises this format can work with, I built three promotional campaigns for Star Wars, Rick & Morty, and Fantastic Beasts and Where To Find Them.
Creative video examples for the Star Wars and Rick & Morty Snapchat augmented reality campaigns can be found in the video below.
Why Mixed Reality advertising?
With Snap, Inc. now regularly rolling out features with augmented reality left and right, mixed reality will soon become the standard used to reach people. It's time to think beyond figures dancing on coffee cups and pop-up wild animals in malls to campaigns that excite and engage people. 

The release of PokemonGo has proven how effective pervasive gaming can be. As location-based augmented reality activities become more widespread, it's important to push how entertainment franchises use it to their advantage when connecting with their target audience. 

While building an app centered around this format is possible, using an already established social platform to reach the mass of users is more efficient. This opportunity for Snap, Inc. to partner with entertainment franchises, and create in-depth Snapchat campaigns, opens up the possibility for unique experiences!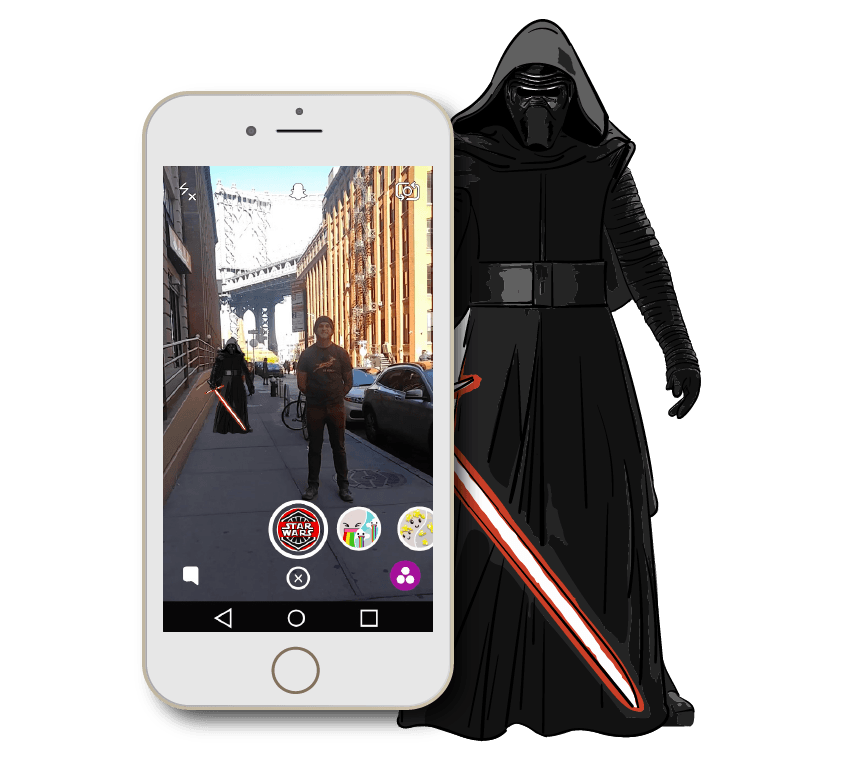 Cross Brand Opportunities.
This format also gives entertainment franchises the opportunity to partner with businesses in the surrounding areas to generate both word about the contest and revenue for the participating local businesses. 

For example, let's say a Starbucks is situated near a popular landmark that has a snapchat lens attached to it. This Starbucks now has the opportunity to advertise a discount to the participants of the snapchat contest. This provides the coffee shop with more business while also promoting the contest for the entertainment franchise creating a win/win scenario for both brands.